Learn How to Protect Your Special Needs Child or Loved One From Losing Government Benefits
With a wealth of experience practicing throughout Delaware, Karla Levinson, Attorney at Law has counseled many families with special needs. You can be comfortable talking to Karla and her staff about any concern, including how to ensure that a loved one with special needs receives their inheritance without losing government benefits.
Our Wilmington-based elder law firm focuses on providing special needs trusts and other disability planning solutions that protect our clients' personal and financial interests. If you have a special-needs family member, our knowledge of asset protection and estate planning can make all the difference. Please contact us today to talk through your situation and determine if we can accomplish your goals.
Without conscious strategic planning, leaving money to a special-needs family member can be counterproductive. Your child or other dependent could be viewed by government agencies as "over-resourced" and the SSI, Medicaid or other benefits he or she currently receives could be terminated.
We have solutions to this dilemma. You may need a specific type of supplemental or special-needs trust, drafted in a way that excludes it as a resource for your heir. Your child or heir can continue receiving government benefits, but the money in your trust is available to "fill gaps" and meet needs the government benefits do not.
Let Us Help You Pass On Every Asset You Can
Our estate planning and elder care lawyers can help you in a crisis situation or as part of your overall plan for the future. Please contact us today to talk about your specific situation and explore all your asset protection opportunities. Whatever special needs trust or other estate planning option will help you most, you can depend on our experienced lawyers and staff to offer exactly that.
Get Your Consumer's Guide to LONG TERM CARE PLANNING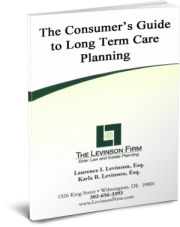 What We Do
Medicaid Planning
Veterans Benefits Planning
Long-Term Care Planning
Estate Planning
Living Trusts
Protecting Assets for Delaware Seniors Every Step of the Way
Don't Let Long Term Care Drain Your Savings