Living Trusts & Estate Planning
Learn How to Protect Your Assets and Ensure that You and Your Loved Ones are Cared for — All while Avoiding Probate and Unnecessary Taxes
Many lawyers offer basic estate planning services, and are able to provide valuable, traditional tools such as a will, durable power of attorney, and advance health care directive. You should definitely have these documents in place, and we can help, but we also encourage you to contact us to discuss whether more complete, innovative planning strategies and tools will benefit your family.
Accounting for Possibilities Other than Your Death
The Levinson Firm, LLC's central focus is on asset protection for seniors and their families, whether in crisis or a planning mode. Among our range of elder law services, we help people pressed to find and pay for quality nursing home care for a loved one, as well as seniors who want to prepare in advance for this possibility.
Specialized Living Trusts — Tax Planning — Long Term Care
The Levinson Firm, LLC is able to offer you the most current, innovative tools for complete estate planning and asset protection. For example, we can provide:
"Bullet-proofing" of your living trust to keep money safe for your beneficiaries even if they are involved in a divorce or are pursued by creditors
An "IRA stretch-out" strategy for continuing tax-free deferral over a longer time
Advanced special needs planning to provide for your children or other dependents who currently receive government benefits
An array of options for asset protection in the event you need long-term care
Comprehensive estate tax planning targeted at passing on the maximum possible legacy to your heirs
Ask for Free Information or Request a Consultation
We welcome (and frequently receive) estate planning referrals from financial planners. We also provide a wealth of free information to seniors and their families on key issues in our field.
Click here to request a free long-term care guide that may help you better evaluate your own needs — or simply call today and request an informative consultation.
Get Your Consumer's Guide to LONG TERM CARE PLANNING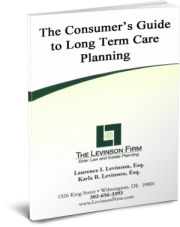 What We Do
Medicaid Planning
Veterans Benefits Planning
Long-Term Care Planning
Estate Planning
Living Trusts
Protecting Assets for Delaware Seniors Every Step of the Way
Don't Let Long Term Care Drain Your Savings