How to Protect Your Family When Someone is Already Admitted to a Nursing Home or is about to be Placed in a Nursing Home
Every day, all across Delaware, people are thrown into crisis when they learn their spouse or parent must enter a nursing home or will require another form of major, long-term care. The shock of a stroke or other dramatic health setback to a loved one may quickly be followed by pressing concern about dealing with the expense.
Nursing home care costs in Delaware range from between $10,000-$12,000 per month for a skilled nursing facility and slightly lower for assisted living facilities — a major drain on anyone's resources. Medicaid is a primary resource in this situation, but where do you begin? What if you run into complications? Our lawyers know how to help in a crisis, and we encourage you to contact us for help.
Fast, Dependable Action to Secure Medicaid Benefits
We help many husbands, wives and children of seniors in crisis obtain all available benefits quickly. Recognizing that you have other obligations to deal with, we not only advise you about Medicaid eligibility and other resources for support — we complete the Delaware Medicaid application for you. You benefit from our extensive knowledge of current Medicaid law, our thorough approach to providing the precise information the state requires, and you benefit by avoiding many of the costly mistakes commonly made by people in similar situations.
We focus on getting maximum benefits as quickly as possible, and we do everything we can to protect your loved one's eligibility and prevent any delays in the money coming through. But we can also do more for you, including:
Sharing our extensive knowledge of nursing homes and other care facilities throughout Delaware, in the effort to help you find the right one
Finding innovative yet practical ways to protect assets, even though crisis has already struck your family
You do not have to "spend down" all your assets paying for care, as you may have heard. Depending on circumstances, we are often able to:
Preserve up to half of a single or widowed person's assets
Preserve all your joint marital assets if your spouse is now, or must soon enter, a nursing home
It is Never Too Late to Protect What You Have Left
Whether your loved one is already in a nursing home or you have just learned that will be necessary, please contact our proven Wilmington attorneys. We will help you in a crisis, provide pre-crisis planning that will benefit you later, or simply provide free informational materials to help you understand critical issues.
Get Your Consumer's Guide to MEDICAID PLANNING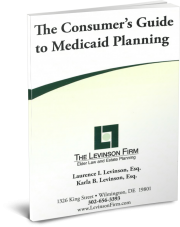 What We Do
Medicaid Planning
Veterans Benefits Planning
Long-Term Care Planning
Estate Planning
Living Trusts
Protecting Assets for Delaware Seniors Every Step of the Way
Don't Let Long Term Care Drain Your Savings