Veterans Aid & Attendance and Widow(er) Pension
Most people think of veterans benefits as being only for servicemen and women who were wounded or disabled while serving in the armed forces.  By and large, that is true.  But there are substantial benefits that may be available to wartime veterans who are now senior citizens and are facing the burden of long term care due to a host of diseases such as Alzheimer's, Parkinson's, MS, Lou Gehrig's Disease, and many others.  In fact, the Veterans Administration estimates that millions of wartime veterans and their spouses may be eligible for Special Monthly Pension benefits, and not even be aware of it!
Wartime veterans, or their surviving spouses, become eligible for the Special Monthly Pension benefit when they are over 65 years of age, are permanently disabled and unable to work, are homebound, or need the regular aid and attendance of another – whether at home, in assisted living, or in a nursing home.  The program is based on actual financial need for assistance, so there are income and asset limitations.  Our lawyers know how to help in a crisis, and we encourage you to contact us for help.
New regulations went into effect on October 18, 2018 regarding the lookback period and asset limits.  The official dates of services remain the same and are as follows:
Mexican Border:  May 9, 1916 to April 5, 1917
World War I:  April 6, 1917 to November 11, 1918
April 1, 1920 if served in Russia
World War II:  December 7, 1941 to December 31, 1946
Korean War:  June 27, 1950 to January 31, 1955
Vietnam War:  August 5, 1964 to May 7, 1975
February 28, 1961 to August 4, 1964 if served in Vietnam
Persion Gulf War:  August 2, 1990 to (date not yet determined)
The maximum benefit available can provide significant help in paying for long term care costs, either for the homebound and/or nursing home veteran or surviving spouse.
Whether you are trying to determine whether or not you may be eligible for the benefit or just have general questions about the program, please contact our office to talk through your situation and we will figure the appropriate next step.
*Note:  A professional must be VA accredited in order to assist someone in filing a VA claim.  Please visit https://www.va.gov/ogc/apps/accreditation/index.asp for verification.
Get Your Consumer's Guide to VETERAN'S BENEFITS PLANNING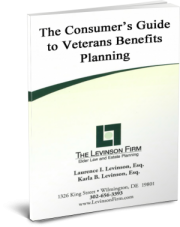 What We Do
Medicaid Planning
Veterans Benefits Planning
Long-Term Care Planning
Estate Planning
Living Trusts
Protecting Assets for Delaware Seniors Every Step of the Way
Don't Let Long Term Care Drain Your Savings