 Karla B. Levinson, Esq.
Tanya S. Sellers, Esq.
Contact Us: 
Address:
1326 King Street
Wilmington, DE 19801

Phone:
(302) 656-3393
Fax:
(302) 656-1993
Website:
www.levinsonfirm.com
Did You Know?
Have you ever wondered why Fall leaves are different colors?
It turns out, the more sugar a leaf is storing, the more red the leaf. Hence maple trees vibrant hues!
Evergreens never change because the chlorophyll (green) in their leaves is covered by a thick protectant wax.
Important VA Update!
Karla has been alerting the community for years that new Veterans Administration regulations were on the horizon. Well, the wait is over – the new rules were released September 18th. Of course, it will take a bit of time to interpret and integrate these changes, so stay tuned for more information in the Winter edition of Elder Law Today!
In the meantime, a few of the highlights are the that the VA has imposed a three year lookback period; meaning any gift during that timeframe would be penalized. Also, a set asset limit has been established, whereas the number was fluid in the past. These new rules go into effect on October 18th of this year.
Tanya Sellers, one of the attorneys in our office, traveled to Florida at the end of September to learn more at a Veterans Pension Planning Conference hosted by ElderCounsel. We are looking forward to new, more clear-cut rulings on VA Aid & Attendance cases. Of course, if you have any questions about Aid & Attendance or Elder Law in the meantime, please give our office a call at (302) 656-3393.
Long-Term Care Seminar
If your spouse is currently receiving Medicaid benefits or if you are widowed and concerned about paying for long-term care in the future, please plan to join us for a special seminar on either Thursday, October 11th or Thursday, October 18th from 12-2 p.m. at Capers & Lemons Italian Restaurant for an insider's guideto your own long-term care planning.
Attendance at this exclusive lunch meeting is free, but space is strictly limited. Please RSVP to Candy at (302) 656-3393 ext. 115 today!
Staff Spotlight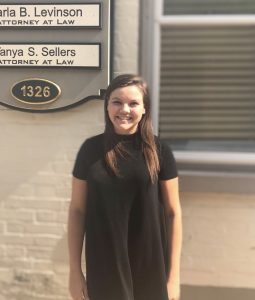 We are thrilled to announce Bridgette Hood joined our team in April as our Legal Assistant Clerk. She oversees much of the behind-the- scenes legal preparations and has become an integral part of our process. If you have questions about a property deed or need information on a guardianship matter, Bridgette is your go-toperson! With a young daughter, Bridgette doesn'thave much downtime, but when she does get a free moment, she loves relaxing with a good book. She and her daughter also enjoy spending time at the beach whenever they get a chance. A self- described movie buff, Bridgette loves catching new movies as soon as they hit theaters. Bridgette is wonderful to have as a member of our team – we LOVE having her!
Hurry! Limited Free Registration Is On Us!
Did you know that 35% of caregivers for people with Alzheimer's or another dementia report that their health has gotten worse due to care responsibilities? Each year, we attend The Alzheimer's Association's Annual Dementia Conference. To help combat that statistic, we would love for our clients that are caregivers to attend along with us! The first five caregivers of a loved one with Alzheimer's or dementia to contact us will receive a FREE ticket to this year's conference. The day is filled with wonderful speakers, updated disease information, and camaraderie. This year's conference info is as follows: This newsletter is intended for informational purposes only and does not constitute legal advice. For legal advice, consult a licensed attorney. The examples used are simplified for ease of understanding and illustration of general concepts.
The Highest Compliment Is Your Trust!
We would like to thank YOU for continuing to refer our firm to others. It is because of you that we can assist so many with their elder law needs. 
A warm thank you to: 
Mylea Aiken – Arden Courts
Kevin Baird, Esq. – Baird Mandalas Brockstedt, LLC
Jamie Barnhart – Forwood Manor
George Brancati, Esq.
Daniel Butler – Raymond James
Nancy Curran – Sunrise Senior Living
Bridget Erhard – Ameriprise Financial
Cyndy Fanning – Swank Memory Care Center
Sally Goodman – The Kutz Home
Jacinda Graham – Rothkoff Law Group
Carolina Heinle, Esq. – Crossland, Heinle & Bryde, LLC
Susan E. Kaufman, Esq. – Law Office of Susan E. Kaufman, LLC
Thomas LaRocca – JPL Asset Management & Planning
Stacey Moreci – The Onix Group
Jeannine Patone – The Onix Group
David Rash – Wells Fargo Advisors
Susan Ricciardi – Regal Heights Healthcare
Thomas D. Shellenberger, Esq. – The Law Offices of Thomas D. ShellenbergerRobert Whetzel, Esq. – Richards Layton & Finger
John Williams, Esq.
We're Expanding!
To continue offering the best possible customer service to our clients, we are expanding our office space. Construction is well underway next door at 1328 King Street to join the building with our current building at 1326 King Street. Once the renovations are complete, we will have more office and conference space which will lead to more flexible scheduling. We are so excited for this new addition to our space! Stay tuned for details on an Open House to show off our new floorplan in 2019! 
Holiday Closures
In celebration of the Thanksgiving holiday, our office will be closed the following days: 
Thursday, November 22nd 
Friday, November 23rd 
We will reopen promptly at 8:00 a.m. on Monday, November 26th. We hope everyone enjoys the holiday with family and friends!