Learn How to Stretch Out the IRA You May Leave Your Children and Grandchildren
They'll Get Years of Tax-Free Growth, Protection from Their Creditors and Divorcing Spouses, Retirement Benefits They May Need for the Future, and a Legacy for Their Children with Exactly the Same Benefits!
IRAs are the best tax gift the government has ever given us. If we combine them with the Roth option and the ability to stretch them out over the life expectancies of our children when we die, it's almost too good to be true.
But IRAs are controlled by a very complex set of laws and must be handled with extreme care to reap all of their benefits. Good planning often requires that we transfer our unused IRAs to special trusts for our children after we die so that our children won't purposefully or inadvertently strip out all of the principal and spoil the brew. Our FREE Guide to the IRA Stretch-Out reveals the recipe for success…
Here is just Some of What You'll Learn…
How to accept IRA funds without adverse tax consequences
How you can distribute the required minimum distributions from the IRA to the child or children each year in amounts based on their individual life expectancies
Provide for additional distributions of IRA money from time to time, in the trustee's discretion
How you can create an additional stand-alone trust, separate from your living trust, to be used when you believe a child may need extra protection from creditors, divorce, legal problems or tax troubles
Prevent the children from inadvertently destroying the tax-free stretch out by prohibiting principal withdrawals without the consent of an independent successor trustee
Make sure your grandchildren will enjoy the stretch-out benefits of the same IRA they inherit from their parents.
The steps you should be taking to add the IRA Stretch-Out Provision to your Delaware Living Trust
Because no one can predict the future, many of our clients elect to add an IRA Stretch-Out Provision to their living trust because "you just never know." A properly drafted stretch-out can help you to gain peace of mind for the future and be secure in the knowledge that your loved ones will be taken care of for years to come.
Get Your Consumer's Guide to LONG TERM CARE PLANNING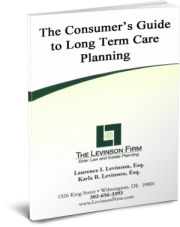 What We Do
Medicaid Planning
Veterans Benefits Planning
Long-Term Care Planning
Estate Planning
Living Trusts
Protecting Assets for Delaware Seniors Every Step of the Way
Don't Let Long Term Care Drain Your Savings